When:
September 15, 2021 @ 4:00 pm – 5:00 pm
2021-09-15T16:00:00-04:00
2021-09-15T17:00:00-04:00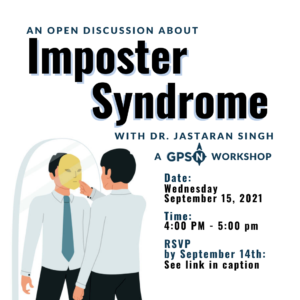 Join us for a workshop on resolving your feelings of "Imposter Syndrome" – a common phenomenon experienced by graduate students of feeling inadequate or undeserving of your current achievements. Brought to you by the Graduate Peer Support Network!
The workshop will be facilitated by Department of Immunology professor Dr. Jastaran Singh and provide a safe space for you and your peers to share your experiences and discuss constructive approaches to combating Imposter Syndrome in grad school.
Date: Wednesday September 15, 2021
Time: 4:00 – 5:00 pm.
Please RSVP by September 14th here: https://forms.gle/skC7Ngo6BuBP99He8
You will be emailed a Zoom link to the workshop closer to the date after you have registered. Please feel free to contact us at gpsn.utoronto@gmail.com with any questions you have about this workshop or our programs.
About us
The Graduate Peer Support Network (GPSN) is a new, GLSE-funded initiative founded by graduate students across the Faculty of Medicine. The purpose of the GPSN is to provide Faculty of Medicine graduate students with timely mental health and wellness support, and resources via educational seminars and peer mentorship. There are three components to our mission: peer mentorship, graduate student life seminar series, and research and advocacy.
email: gpsn.utoronto@gmail.com
website: https://uoftgpsn.ca/