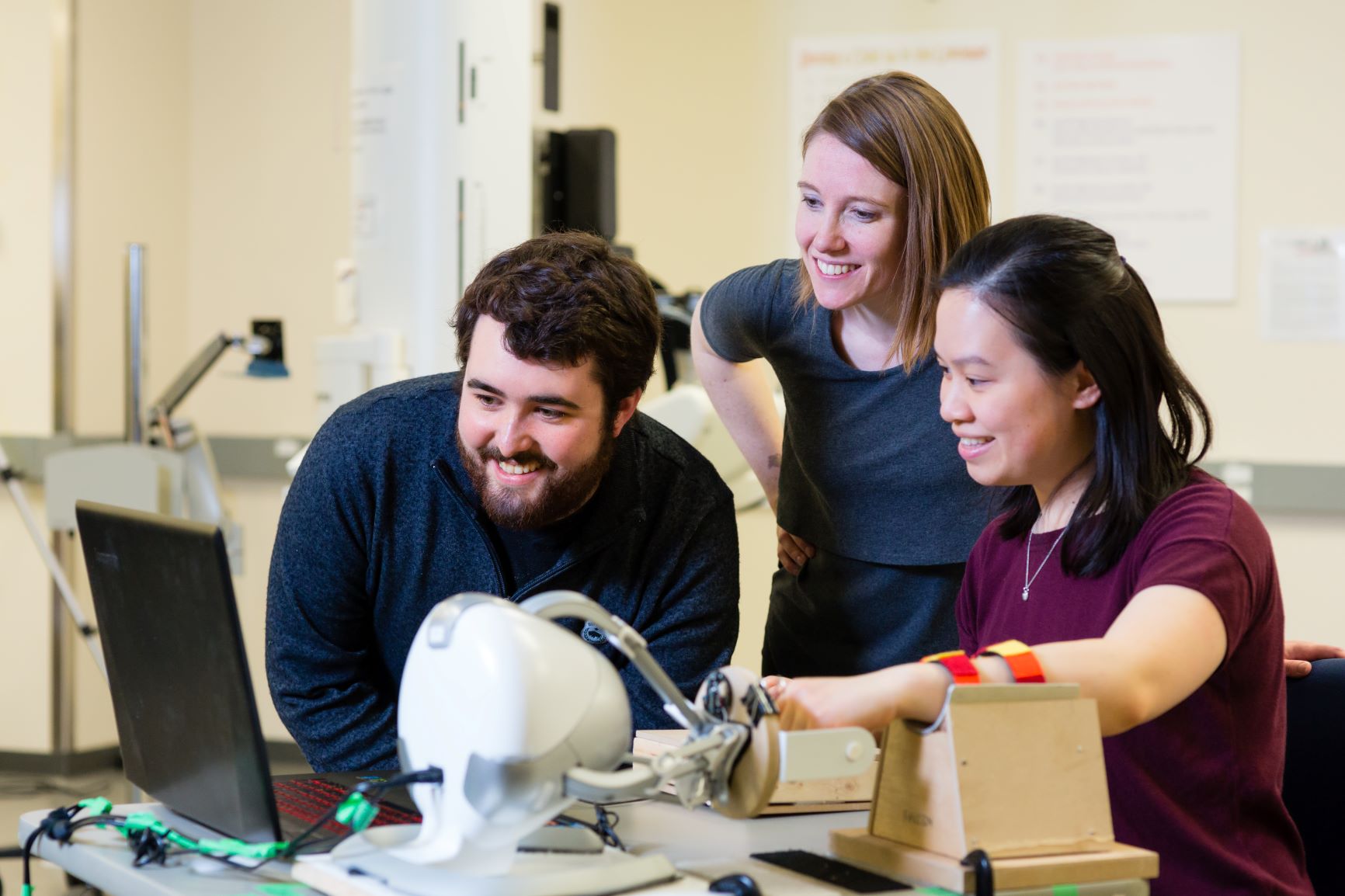 Supporting the growth of our future engineers since 1962
The following fellowships and awards were established through gifts, including those contributed by colleagues, students, and friends of the Institute. We thank all of our donors for their kindness, generosity, and commitment toward supporting the education of learners at the Institute of Biomedical Engineering. Thank you!
Anna Jamieson Award
Established in 2013; Donors: Friends and colleagues of Mrs. Anna Jamieson on the occasion of her retirement from the Institute of Biomedical Engineering
Awarded annually to a graduate student who, in the opinion of the selection committee, made the most significant contribution to the spirit of the Institute and to the well-being of its students. The award is not to be based on academic standing or academic performance
Mrs. Jamieson's own words provide an elaboration on the terms of the award: "I specifically wish this award to honour, annually, the one student who has made the greatest contribution to maintaining the spirit under which the Institute began to function during its first decade under the guidance of Normal Moody, Llewellyn-Thomas and myself. Our aim during those years was to install in all the students a sense of friendship for each other, an attitude of mutual responsibility and caring for each other's welfare (including helping newcomers adjust to life in Canada) and support and responsibility for the sense of cooperation and warm camaraderie that has been the particular strength of BME."
Barbara and Frank Milligan Graduate Fellowships
Established in 2006; Donors: Mrs. Barbara and Mr. Frank Milligan
To be awarded on the basis of academic merit to graduate students enrolled in the Institute of Biomedical Engineering (BME), within the Faculty of Applied Science and Engineering. The awards are to be evenly distributed between students directly enrolled in BME programs and collaborative program students whose home department is Mechanical and Industrial Engineering (MIE). In the absence of BME and/or MIE-based collaborative program students, scholarships may be awarded to graduate students in other Engineering programs, with preference given to students in MIE.
Ian R. Dalton Graduate Award
Established in 2015; Donor: Estate of Ian R. Dalton
Awarded to students in the Institute of Biomedical Engineering. The recipient(s) will be selected based on scholarly merit
ITHC Graduate Fellowship
Established in 2007; Donor: Institute for Technology in Health Care
Awarded to a student who is registered with the Institute of Biomedical Engineering's clinical engineering program as specifically related to developments in health care, and has obtained the highest academic standing in the clinical engineering program
ITHC Thesis Award
Established in 2008; Donor: Institute for Technology in Health Care
Awarded to a student who is registered with the Institute of Biomedical Engineering and whose thesis project most closely demonstrates the direct and immediate application of engineering expertise to health and medical care, and who has obtained the highest thesis mark within the clinical biomedical engineering program as specifically related to developments in health care
Loo Geok Eng Foundation Graduate Scholarship
Established in 2011; Donor: Seong Lim Gooi on behalf of the Loo Geok Eng Foundation
Awarded to graduate students in the Faculty of Applied Science and Engineering, specifically BME international students with a first preference for students from Malaysia or Singapore
Mount Sinai Hospital Graduate Scholarships in Science and Technology
Established in 2014; Donor: Mount Sinai Hospital Foundation
Awarded to graduate students on the basis of financial need. In addition, this scholarship should be awarded on the basis of academic excellence in the Faculty of Applied Science and Engineering with preference given to students registered in the Institute of Biomedical Engineering. Preference will be given to students who are supervised or co-supervised by full members or associate members of the School of Graduate Studies who are also on staff at Mt. Sinai Hospital with additional preference given to students supervised or co-supervised by a member of the Department of Laboratory Medicine and Pathobiology
Norman F. Moody Award
Established in 2006; Donors: The staff, former students, and members of the Institute of Biomedical Engineering, that Professor Normal F. Moody directed for 12 years, on the occasion of his retirement from directorship
Awarded annually to a student enrolled in the School of Graduate Studies, proceeding to a higher degree, and carrying out their research through the Institute of Biomedical Engineering under the supervision of one or more Institute faculty members
Poul B. Madsen Award
Established in 2018; Donors: Colleagues, friends, family and business associates of Poul Madsen
In recognition of excellence in applied biomedical engineering, this award is granted to a graduate or undergraduate student who has worked on a biomedical engineering project that best meets the following criteria:
the work is of an applied nature with clear clinical relevance
the candidate has demonstrated entrepreneurial initiative in the biomedical industry, or in health care delivery
the work demonstrates creativity in design
Sally and Paul Wang Distinguished Graduate Scholarship at the University of Toronto
Established in 2007; Donors: Sally and Paul Wang
Awarded to graduate students on the basis of the following criteria:
Applicants must be registered full-time and in good standing in the second or third year of a doctoral program at the University of Toronto at the time of application
Preference will be given to students who are registered in BME, Banting & Best Diabetes Centre (BBDC) and/or supervised or co-supervised by a member of the SGS faculty who is also a staff member in BME or BBDC, or students working in the area of diabetes research
The successful candidate will have an outstanding academic record and be making exceptional progress in their graduate research program, as demonstrated by academic records, letters of recommendation and other measures of scholarship
The committee will also give consideration to the candidate's leadership within the University or his or her involvement in the life of the University
Sally and Paul Wang Graduate Scholarship in Biomedical Engineering
Established in 2011; Donors: Sally and Paul Wang
Awarded to graduate students on the basis of the following criteria:
Students who are registered in BME, BBDC and/or supervised or co-supervised by a member of the SGS faculty who is also a staff member in BME or BBDC, or students working in the area of diabetes research. Primary preference to be given to students in BME
Applicants must be registered full-time and in good standing in the second or third year of a doctoral program at the University of Toronto at the time of application
While a recipient in second year may apply again, de novo, for an award in the following year, a recipient in the third year is ineligible to re-apply
The successful candidate will have an outstanding academic record and be making exceptional progress in their graduate research program, as demonstrated by academic records, letters of recommendation and other measures of scholarship
The committee will also give consideration to the candidate's leadership within the University or his or her involvement in the life of the University
Wildcat Graduate Scholarship at the University of Toronto
Established in 2013; Donors: John Komisar and Pauline Wong
One half of the annual payout will be awarded to international doctoral students; the second half may be awarded either to domestic or international doctoral students, as determined by the Director of BME
Wildcat PhD Fellows
Established in 2016; Donors: John Komisar and Pauline Wong
Awarded to students in a direct-entry PhD program in BME who are in their first year of graduate studies, to support a lab rotation opportunity. Students will be selected on academic merit by the Director of BME or their designate
Wildcat Voyager Scholarships
Established in 2015; Donors: John Komisar and Pauline Wong
Awarded to students to fund conference-related travel expenses for PhD students enrolled in their final or penultimate year at BME. Recipients will be selected based on scholarly merit
BME awards are available to research program students only