BME's clinical engineers design technologies, devices and strategies for people with chronic disease, traumatic injury, disabilities and mobility limitations to help them integrate more fully with their environment.
Check out the case studies below to learn about the exciting research done here at BME: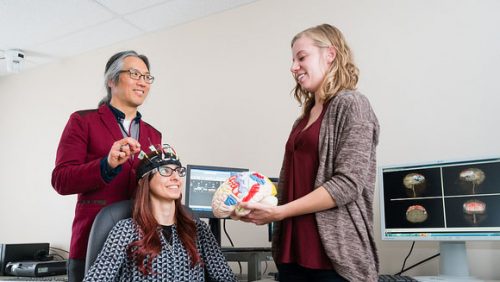 Accessing the right to communication for children and youth with complex disabilities
Professor Tom Chau helps young people with complex disabilities connect with the world around them.
As a senior scientist and vice-president of research at Holland Bloorview Kids Rehabilitation Hospital, Chau leads the Paediatric Rehabilitation Intelligent Systems Multidisciplinary (PRISM) Lab to develop sensing, signal processing and machine-learning methods that enable children and youth with various disabilities to communicate and interact with their environment.
One of his recent foci is to use a non-invasive technique known as near-infrared spectroscopy — to decode brain patterns in young people with severe neurological disability. The signals can then be articulated through various access technologies to enable communication between the patient and their caregivers.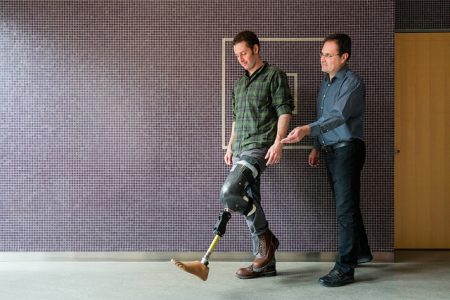 Enabling mobility for those with physical disabilities
A typical artificial limb costs several thousands of dollars. Professor Jan Andrysek's All-Terrain Knee (AT-Knee), developed at Holland Bloorview Kids Rehabilitation Hospital, is high-functioning, durable, and costs a fraction of that price.
As a clinical engineer and scientist at Holland Bloorview Kids Rehabilitation Hospital, Andrysek leads the Paediatrics, Rehabilitation, Orthotics, Prosthetics, Engineering and Locomotion (PROPEL) Lab. Its study of human biomechanics allows them to develop and innovate affordable treatments and assistive technologies that enable mobility for individuals with severe physical disabilities.
Today, his spinoff company, LegWorks, is producing the AT-Knee to help amputees around the world regain their mobility and independence.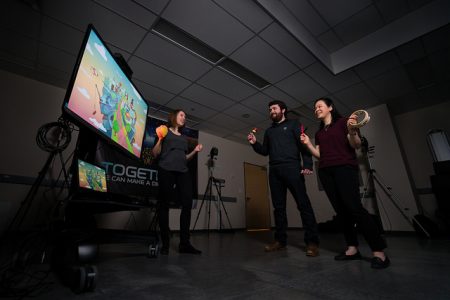 Video games: a new therapeutic frontier
As a clinical engineer and scientist at Holland Bloorview Kids Rehabilitation Hospital, Professor Elaine Biddiss leads the Possibility Engineering and Research Lab (PEARL) to develop interactive technologies that assist young people with disabilities to accomplish rehabilitation goals.
One area of PEARL's research focus is virtual reality therapy — an interactive, low-cost series of video games that impose virtual constraints to encourage therapeutic movements and can be customized to an individual's rehabilitation needs. This particular innovation, along with several other developments from her lab, engages children with disabilities and mobility challenges to complete repetitive therapy tasks and foster social interactions through multiplayer options.
Read more news about clinical engineering