For Status-Only, Adjunct & Cross-Appointment
BME offers status-only or non-budgetary cross-appointments to individuals qualified to make significant contributions to the educational and research activities of the Institute by leading innovative research programs and delivering high-quality education experiences for students. Specifically, these activities include (but are not limited to) teaching, supervision, committee/advisory service, and mentorship. In return, the Institute makes a commitment to further the academic activities and progress of all faculty appointees.
While BME aims to foster cross-functional collaboration and research, collaboration itself does not provide a sufficient rationale for faculty appointment, nor does it warrant appointment consideration. All BME applicants must demonstrate supervisory competence by providing evidence of a quality training environment for students (e.g. possessing appropriate laboratory space, research equipment, and adequate funding, being available to provide mentorship/training, etc.) Furthermore, the type of training provided must be meaningful within the scope of the biomedical engineering discipline (i.e. training should advance the biomedical engineering skills of the trainee).
Appointment decisions are determined by the Cross-Appointment Committee, which comprises core faculty members at BME, and appointments are granted at the discretion of the Dean of the Faculty of Applied Science and Engineering. Appointments are reviewed by the Cross-Appointments Committee approximately twice per year (April & December).
Determining your BME appointment type
To determine which type of faculty appointments you are applying to, follow the flowchart below. If you need clarification of the terms used, please refer to 'terms and definitions' for more information.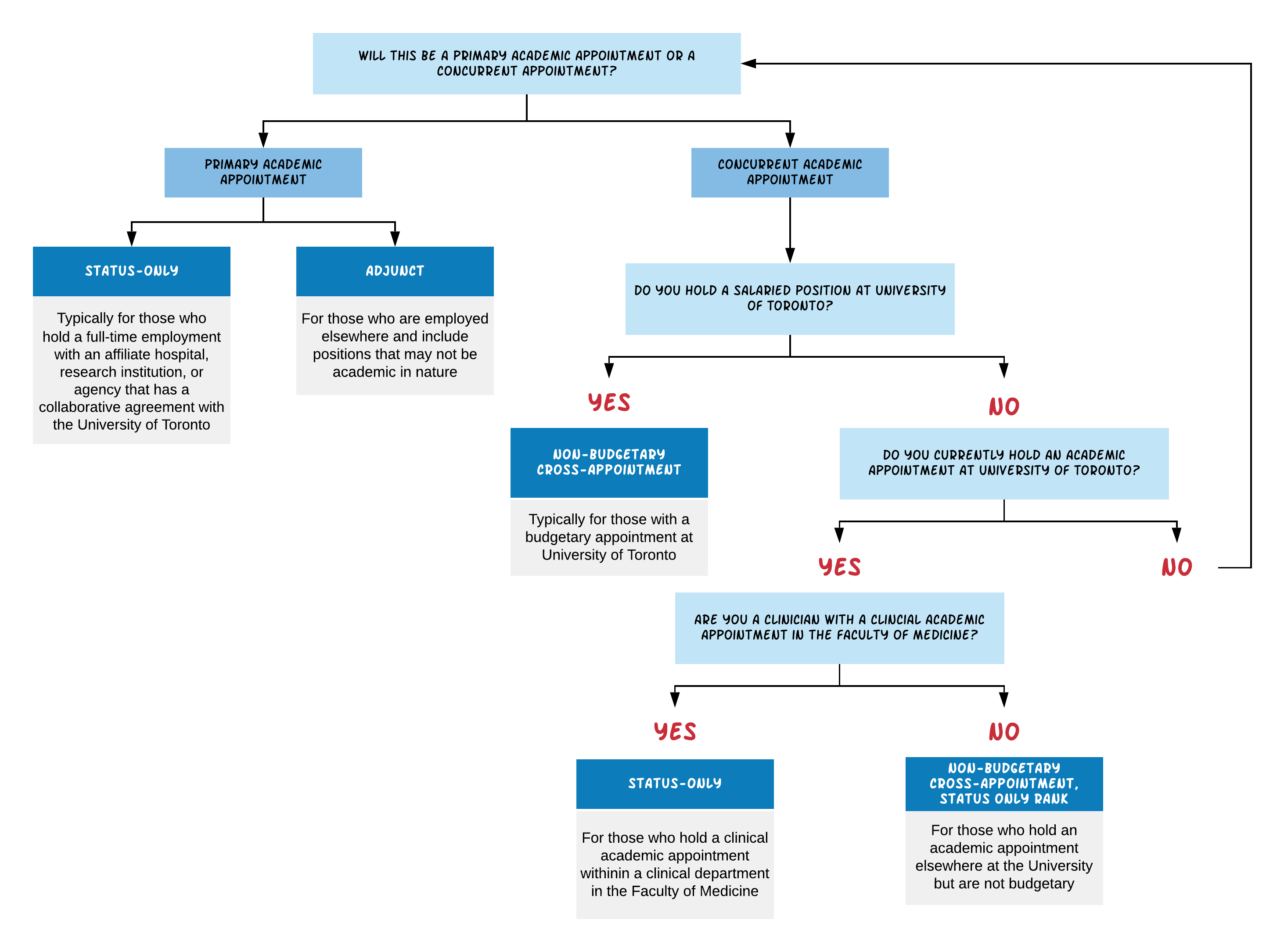 Faculty Appointment Requirements
Hold a tenured (or tenure-track) position within an academic unit at the University of Toronto or hold a Scientist, Senior Scientist, or Clinician-Scientist position within a clinical unit at a University of Toronto affiliate hospital.
Have access to independent or shared lab space that is up and running for appropriate graduate training.
Have funding support from at least one Tri-Agency (NSERC/CIHR/SSHRC) for a researcher that has been at the University for at least five years or start-up/operational funding from a hospital division/home department for a new researcher with a Scientist position.
Demonstrated experience supervising students in the engineering discipline.
Meet the requirements of an independent investigator as defined by CIHR.
Instructions for Applicants
Whether a new or renewing, all applicants must prepare and submit an appointment application package as a single .pdf file, consisting of the following documents, assembled in order:
A completed appointment application form.
A one-page letter of intent (for new applicants) OR a 1-2 page summary of past contributions (for renewal applicants).
A signed letter of support (within the past six months) from the head of your primary appointment
If you hold multiple appointments, a signed letter of support from the head of each additional affiliate institution (dated within the past six months; new applicants only).
An up-to-date Cirriculum vitae.
A list of BME students supervised (including their present career status/position)
For renewing applicants who have UTORids, applications should be submitting by following this link. For new applicants or those who do not have a UTORid please submit your application here.
Please note that new applicants should arrange to introduce themselves to BME faculty and students giving a one-hour talk at the Graduate Speaker Seminars. Please contact the Graduate Program Administrator (grad.bme@utoronto.ca) for seminar scheduling.
Renewing applicants are responsible for ensuring their renewal application is received by the Institute's Director no later than March 30 of the terminal year.
Applicants who seek status-only or non-budgetary cross-appointment to BME may apply at any time throughout the year; however, applications are reviewed approximately twice per year (April & December). Applications must be received by the following deadlines to be considered within the respective timeframe.
Applications aiming for consideration in December must be received by October 31*.
Applications aiming for consideration in April must be received by March 31*.
*actual deadlines year to year may vary slightly.
Faculty Appointee Responsibilies & Privileges
BME appointed faculty member are responsible for the following:
Supervising undergraduate student thesis and research projects.
Being the primary supervisor for graduate student thesis and research projects, and contribute to graduate student stipend support.
Being the SGS-appointed chair of a PhD defense once every two years, if you are cross-appointee from an affiliate hospital
Participating in academic collaboration with BME faculty and students in at least one of the Institute's main research areas.
Promoting the Institute and the field of Biomedical Engineering at the local, national, and international levels.
Contributing to the goals and curricula of educational programs at the Institute by participating as a guest lecturer in graduate courses and/or making graduate courses in your home departments available to BME students.
Contributing to BME curricula by teaching at least 25% of a graduate/undergraduate-level course, supervising MEng students, or participation as a speaker in the Graduate Student Seminars.
Serving as a member of BME graduate supervisory and defense committees.
Where relevant, attending faculty, staff, graduate committee, and/or strategy meetings in your research area on behalf of BME.
Contributing to the profession of Biomedical Engineering through 'community service'.
Participating in BME seminars, summer student programs, and social events.
Acknowledging BME in all communications including posters, seminars, and publications that involve BME-affiliated trainees and resources.
Being included as cross-appointed faculty in the BME directory and email listserv, and providing updates of personal and research profile information upon request.
Providing a summary report detailing current and planned research activities at the time of initial appointment and at each subsequent appointment renewal date.
BME appointed faculty members gain the following privileges:
Access to the University of Toronto library resources.
Access to academic development programs at BME.
Invitation to BME events, faculty meetings, faculty retreats, etc.
Access to internal communication and institutional services (newsletters, workshops, etc.)
Ability to apply for grants (if eligible as status-only faculty) that require the applicant to hold a University appointment.
Close collaboration opportunities with other BME faculty members.
Graduate Faculty Membership (GFM) from the School of Graduate Studies with the type of membership granted decided by the BME Cross-Appointment Committee.
Academic appointment
Academic Appointments are those where an individual is engaged in research, teaching (including provision of clinical care that may involve supervision of students, residents or other trainees), and/or creative professional activitiy at the University.  Not included in this definition are faculty administrative appointments (eg. Department Chair), hospital appointments, university staff appointments, student appointments, medical residencies, or librarian appointments.
---
Hospital/research institute appointment
A Hospital/Research Institute appointment is used to indicate a position at an affiliated hospital and can be clinical or non-clinical in nature.
---
Primary academic appointment
Each faculty member at the University is appointed to an academic department/institute. An appointee may belong to only one department or belong to multiple.  If the appointee only holds an appointment in one department/institute at the University, then this is their primary appointment. If the appointee holds an appointment in multiple department/institutes then the primary appointment refers to the "home" department/institute. If no prior appointment is held, then the individual may be considered applying for a primary academic appointment. Primary academic appointments are typically either budgetary appointments, status-only appointments or adjunct appointments.
---
Concurrent academic appointment
Concurrent appointments refer to appointments in departments/institutes other than the primary department. If an individual already holds an academic appointment in a department/institute at the University, then any additional appointments would be considered a concurrent appointment. 
---
Budgetary appointment
Budgetary appointees are employed by the University and receive a salary from their respective primary department at the University.
---
Cross-appointment (non-budgetary)
Cross-appointees are those who hold a primary academic appointment elsewhere at the University. Cross-appointees may or may not be employed by the University as faculty members but those who are not employed by the university are distinguished by having a non-budgetary cross appointment with a status-only rank. Non-budgetary cross-appointees receive no salary or remuneration from BME. Cross-appointees engage in the teaching, supervision, and advising of both undergraduate and graduate students, as well as in committee service to programs, and in other duties specified in the offer letter.
Appointments are made for a fixed term, typically one to three years (up to five). Whereas it is customary that the initial term be no less than three years, the duration of subsequent appointments is decided by the Cross-Appointments Committee at the time of appointment renewal. Cross-appointee ranks at BME are the same as in their primary department/unit at the University. Appointments are renewed at the discretion of the Dean (Faculty of Applied Science & Engineering). Cross-appointments must have the consent of all divisions involved and do not confer primary or secondary appointment status, or any review or tenure committee rights and responsibilities at BME.
Clinicians who hold an academic appointment within a clinical department in the Faculty of Medicine are not classified as non-budgetary cross-appointments (see Status-Only appointment).
---
Status-only appointment
Status-only appointees are not employed by the University but (a) hold a full-time employment with an affiliate hospital, research institution, or agency that has a collaborative agreement with the University of Toronto and/or (b) hold a clinical academic appointment within a clinical department in the Faculty of Medicine. Status-only appointees receive no salary or remuneration from the University of Toronto or from BME. Status-only appointees are typically involved in academic activities such as research/teaching, and all members must qualify as an independent researcher for appointment consideration.
Status-only appointees receive Assistant/Associate/Full Professor ranks, which are analogous to academic ranks at the University. However, standards for appointee rank at entry are set by the Cross-Appointments Committee. The promotion of status-only appointees is possible but not expected. Status-only appointees may be promoted on the recommendation of a properly constituted promotions committee, according to divisional guidelines and the Policy and Procedures Governing Promotions, and subsequent review and approval by the Vice-President and Provost (see the section on "Promotion to Professor" | www.aapm.utoronto.ca/promotions). Academic promotion is solely awarded on the basis of excellence in research, creative professional activity, and/or teaching (see the section on "Promotion Criteria" | www.deptmedicine.utoronto.ca/promotion-criteria).
---
Adjunct appointments
Adjunct appointees are employed elsewhere and include positions that may not be academic in nature. Adjunct appointees possess special skills or learning of value to the Institute. There are two types of Adjunct faculty appointments: Lecturer and Professor. Adjunct appointments are awarded for a limited and specified term. Adjunct faculty appointments are not ranked but may receive remuneration for services (see section on "Adjunct Appointments" | www.aapm.utoronto.ca/status-only-adjunct-visiting-professors/#adjunct).
Adjunct Professor: Distinguished individuals of exemplary achievement with whom the Institute expects to have an ongoing connection.
Adjunct Lecturer: Individuals involved with teaching programs or who contribute their skills or experience in supervising clinical placements.
---
Independent researcher
The Canadian Institutes of Health Research (CIHR) defines an independent researcher as an individual who: (1) is autonomous regarding his or her research activities and can demonstrate that he or she will have sufficient time to devote to the proposed research, (2) has an academic or research appointment, which allows the individual to pursue the proposed research project, to engage in independent research activities, to supervise trainees, and publish the results, and (3) is obligated to conform to institutional regulations concerning the conduct of research, the supervision of trainees, and the employment conditions of staff.
---
Affiliated hospital
Nine hospitals in the Greater Toronto Area are fully affiliated with the University of Toronto (see the section on "Fully-Affiliated Hospitals/Research Institutes" (www.medicine.utoronto.ca/about-faculty-medicine/fully-affiliated-hospitalsresearch-institutes).