There are no upcoming events to display at this time.
Apr
20
Tue
ECHO Webinar – Margaret Magdesian (Ananda Devices): Apr 20 (11 am – 12 pm)

@ Online
Apr 20 @ 11:00 am – 12:00 pm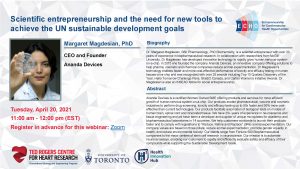 Presenter:
Margaret Magdesian, PhD CEO and Founder Ananda Devices
Topic:
Scientific entrepreneurship and the need for new tools to achieve the UN sustainable development goals
Date:
Tuesday, April 20, 2021
Time:
11:00 am – 12:00 pm (EST)
Register in advance for this webinar:
Zoom
Biography: 
Dr. Margaret Magdesian, BSc Pharmacology, PhD Biochemistry, is a scientist-entrepreneur with over 20 years of experience in biopharmaceutical research. In collaboration with researchers from McGill University, Dr Magdesian has developed innovative technology to rapidly grow human nervous-system on-a-chip. In 2015 she founded the company Ananda Devices, an innovative company offering solutions to help pharma, cosmetic and chemical companies reduce animal experimentation. Dr Magdesian's technology enables faster and more cost-effective performance of toxicity and efficacy testing in human tissues-on-a-chip and was recognized with over 25 awards including Top 10 Quebec Discovery of the Year, Hello Tomorrow Challenge Paris, SheEO Canada, and Cartier Women's Initiative Awards. Dr Magdesian is also an INSEAD fellow for social entrepreneurship.
Abstract: 
Ananda Devices is a certified Women Owned SME offering products and services for more efficient growth of human nervous system-on-a-chip. Our products enable pharmaceutical, vaccine and cosmetic industries to perform drug screening, toxicity and efficacy testing up to 50x faster and 90% more cost effective than current technologies. Our products facilitate automation of biological tests on models of human brain, spinal cord and innervated tissue. We have 20+ years of experience in neuroscience and tissue engineering and we have been a developer and supplier of unique microplates for academic and biopharmaceutical laboratories in 14 countries. We help customers worldwide to launch their products faster and to comply with legislations to "Reduce, Refine and Replace" (3Rs) animal experimentation. Our company values are based on three pillars: reduce animal experimentation; promote gender equality in health; and reduce environmental toxicity. Our clients range from Fortune 500 Biopharmaceutical companies to the major centers of stem cell research in neuroscience. Our mission is to automate neuronal assays, enabling our customers to rapidly and efficiently evaluate safety and efficacy of their compounds while supporting the Sustainable Development Goals
May
14
Fri
ONEBiophysics 2021

@ Online

Welcome, Registration Opens February 8th!!
The Ontario Networking Event (ONE) in Biophysics began as an effort to bring together researchers from across Ontario with an interest in biophysical research, but has since spread far beyond those borders . This event welcomes all faculty, researchers, professionals and trainees in the field of biophysics, with a special emphasis on trainees who will have the opportunity to showcase their research through posters and oral presentations.
Abstracts are being accepted for a limited number of speaking slots as well as for a virtual poster session. While submitted abstracts will only be considered for graduate students and postdocs, researchers at all career stages may participate in the event, which is free to attend.
While we would all rather hold this meeting in person, we're making every effort to create a unique, virtual event that provides you with an opportunity to share your research with the broader biophysics community.
Confirmed Invited Speakers
Susan Cox, Kings College London
Elizabeth Hillman, Columbia University
Patrick Oakes, Loyola University Chicago
The Organizing Committee
Rodrigo Fernandez-Gonzalez, Institute of Biomedical Engineering, University of Toronto
Jonathan Rocheleau, Institute of Biomedical Engineering, University of Toronto
Joshua Milstein, Department of Chemical and Physical Sciences, University of Toronto Mississauga
Registration and abstract submission will open on February 8th (https://event.fourwaves.com/onebiophysics2021)
Jun
16
Wed
2021 Toronto Biomedical Engineering Conference (ToBE 2021)

@ Online

The Toronto Biomedical Engineering Conference is hosted by the Institute of Biomedical Engineering at the University of Toronto. This year, we'll be hosting the conference virtually. The conference will be held on June 16, 2021.
Registration and abstract submission are now open! 
Stay tuned and check our social media, accessible at the bottom of this page, for more upcoming news on speakers, sponsors, exhibitors, and important dates!
Abstract Limit: Note that abstracts are limited to 2500 characters. Additionally, you can submit one optional table or figure that supports the abstract.
Submission Streams: This year, ToBE offers three opportunities for your to present your work: Oral Presentations, Poster Presentations, and Three-minute Madness Presentations. Please select your preference on the submission form.
Due date: The applications will be closed on April 2nd.
Application Submission: After submission, you will receive a confirmation email with a link that will allow further editing till April 2nd.
Result Notification: Presenters with accepted abstracts will be notified in the second half of May.
Registration: Please note that presenters with accepted abstracts will be required to register for the event. You can find the registration form through our website.
We look forward to receiving your application!